Builders' Merchants News – Beesley & Fildes invests £1.2m in sawmill upgrade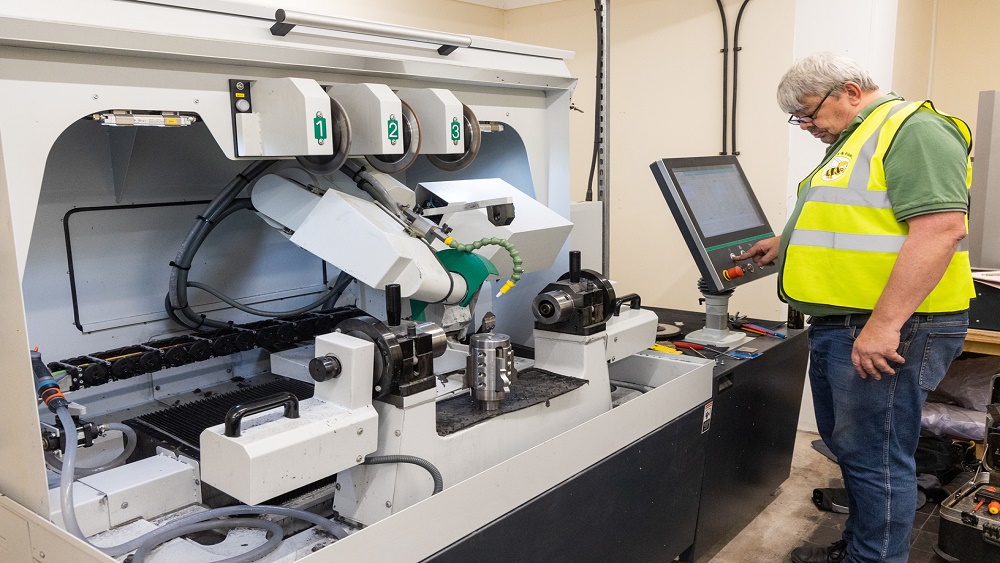 This move responds to increased demand for wood stock items in the company's branch network and custom orders.
Beesley & Fildes, the family-owned independent builder's dealer, has invested £1.2million in its sawmilling factory in Widnes in response to increased demand for wooden items in the network of company branches and custom orders.
The timber factory, acquired by Beesley & Fildes in 2004, produces skirting boards, architraves, flooring, planed timber, door frames and certified fire door frame kits sold in the network of 11 branches of the company and online. He also fulfills custom orders from branches and customers, including matching legacy wood features and providing similar wood detailing for heritage projects.
The £1.2 million investment program is designed to increase efficiency and throughput, enabling Beesley and Fildes to offer reliable, cost-effective supply with full accountability, traceability and quality assurance.
The investment includes two new Weinig planing and profiling lines, which will replace the mill's existing planing equipment, enabling increased throughput, quick installation and a consistently excellent finish at the Beesley & Fildes lumber mill.
The Weinig P3000 and P1500 machines can be pre-programmed and will remember settings for repeated jobs, improving efficiency and enabling faster operation with a single operator for each machine.
Paul Causer, Timber Mill Manager, said: "The new Weinig P3000 planing and profiling line will enable us to process up to 120 linear meters of timber per minute, a 600% increase over our existing equipment.
"With lightweight tools, digital programming, program storage and preset capabilities, it will also be much easier and quieter to operate, which will help us optimize plant resources and provide a working environment improved for our team, while maintaining high standards of quality and service."
The new investment program also includes a new British-made fully automated Stenner resaw which will convert timber for the production of skirting boards, fence panels and bevelled edge boards.
Requiring only one operator, the new re-saw provides Beesley & Fildes with industry-leading re-saw technology, increased capacity and wider internal processing capabilities to bolster line reliability supply for customers.
Beesley & Fildes also acquired a small saw from Stenner to replace another existing machine, providing additional capacity for corner threads and bevelling.
From the manufacturer of cut-off machines, Stromab, Beelsey & Fildes has purchased an automated cut-off machine which will enhance the range of certified fire door skins and door skin sets the company can offer in its network of branches. The machine will be used to produce 12 variations of door frames – six different frame widths, with two alternative opening sizes – as well as certified fire door frames which will have a pre-profiled recess for the intumescent material .
Investment in the five machines has been coordinated with an upgrade to the plant's extraction system and tool room, ensuring the facility provides a safe, comfortable and digital working environment that will future-proof capabilities wood milling machines from Beesley & Fildes.
The upgrade means Beesley & Fildes' experienced engineering and woodworking team will be able to load CAD drawings directly onto the new machines and all machines will run on an integrated digital system which will ensure standards high accuracy, real-time management information and prioritized workflows.
James Beelsey, Commercial Director, added: "The sawmill at our Widnes branch is an important part of our offering, both in enabling us to stock all of our branches and in our ability to produce bespoke items for customers – if they can be made from wood, we can do it!
"This investment program aims to improve our capabilities to prepare for continued growth and to ensure that we provide consistently efficient and accurate wood processing. In addition to new equipment, we are also recruiting an apprentice wood machinist, investing in the future of our business and our community with an opportunity for a young person to develop skills in the sector.