Michigan neo-Nazi leaders of The Base plead guilty to gangs and guns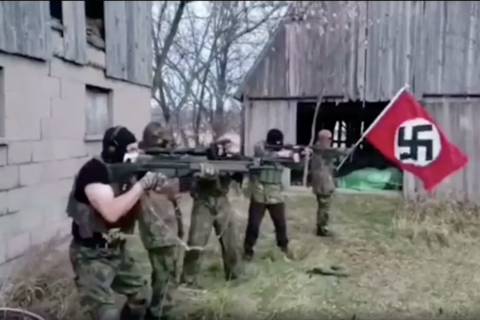 Tristan Webb, who hosted Watkins and conducted weapons training drills at his homestead in Bad Axe, this week pleaded no contest to gang membership, conspiracy to train with firearms for civil disorder and felony firearm charges.
Related:
As Bridge Michigan previously reported, Watkins was first accused of harassing a home in Dexter in an effort to "threaten, intimidate and harass" an "Antifa podcast" host who didn't actually live in the home that he was. he was visiting.
Federal, state and local investigators say Watkins and Webb also illegally trespassed on state property while scouting potential locations for so-called "hate camps."
While the gang membership charge could land Watkins and Webb up to 20 years in prison, another base member – Alfred Gorman, who helped Watkins hunt down Dexter's house – pleaded guilty to the same charge in Washtenaw County in February and was sentenced to four years probation. .
The additional firearms charges that Watkins and Webb face carry two or four years in prison. A fourth man associated with The Base, Thomas Denton, was recently sentenced to between two and four years in prison on similar charges for his role in scouting in Tuscola County.
Nessel, in a statement, said the convictions and pleas reiterated his office's "commitment to protecting the residents of Michigan."
She said the convictions "set a historic precedent in our state's justice system and speak to the real danger of homegrown terrorism here and across the country."
"In Michigan, we will not hesitate to prosecute those who commit crimes in the name of overthrowing our government or perpetuating racist ideologies," Nessel said, noting that the investigation involved state police. of Michigan and the FBI's Joint Terrorism Task Force.
The Base, which organizes online and emerged in mid-2018, is primarily active in the United States and is preparing for "an impending race war", according to the Anti-Defamation League.
The neo-Nazi group espouses "a nihilistic, fast-paced rhetoric — an ideology embraced by white supremacists who have determined that a societal collapse is both imminent and necessary," according to the ADL.
The Michigan cell trained on an isolated farm property in Bad Axe, where it also filmed recruiting videos with men dressed in skull masks, fatigues and tactical vests, assault type weapons and Nazi flags.
Watkins, then 25, had joined the group in 2019 and quickly assumed a prominent role in the Michigan cell. The former Metro Detroit resident was motivated by "fascism and adherence to the natural order — the way things are meant to be," he told executives in a 2019 interview then. that he was looking to become a member of The Base.
Watkins mentored and eventually lived with Webb, a teenager who bonded with other white nationalists online after leaving a northern Michigan high school where he was mocked as "Jesus Hitler," as reported. Bridge.