Nora Mill Granary – Helen, GA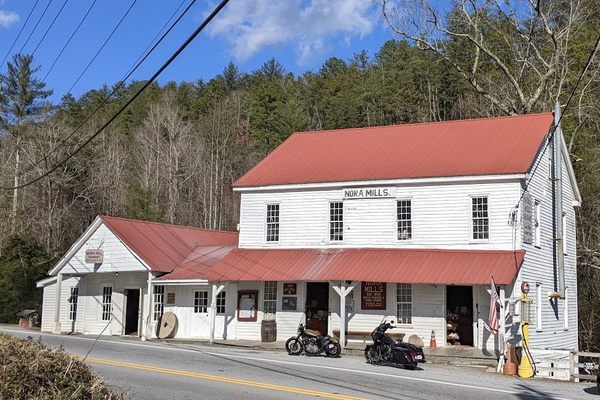 Just outside of Helen, Georgia, part of the Chattahoochee River flows along a wooden cableway and into a 19th century water turbine. These impellers feed a series of elevators and chutes that bring the dried beans to a pair of 1,500 pound French Burr wheels. Trapped between the stones, the grain is ground into flours such as cornmeal, oatmeal and pancake mix. This is how Nora Mill Granary has been producing flour for almost 150 years.
Nora Mill was built in 1876 by John Martin, a gold digger who decided to settle permanently in the Sautee-Nacoochee Valley. The mill was purchased in 1902 by Lamartine G. Hardman, who would later become Governor of the State of Georgia. It was Hardman who named it "Nora Mill" in honor of his sister. Today, Nora Mill persists as a window into the technology of the past. The use of the turbine is particularly unusual, as most mills of this era used water wheels instead.
Nowadays, flour is usually ground with steel machinery and electricity from fossil fuels. Many bakers and health food advocates still prefer stone-ground flour, saying it has better texture and nutritional quality. The Nora Mills store offers the perfect opportunity to try stone ground flour and learn how it is made. Visitors can also stock up on other kitchen supplies, kitsch Southern memorabilia, and food to feed the fish that live in the Chattahoochee River below the mill.