OLD NEWS: In 1922, a last pencil mill in Arkansas was still cutting expensive but excellent red cedar heartwood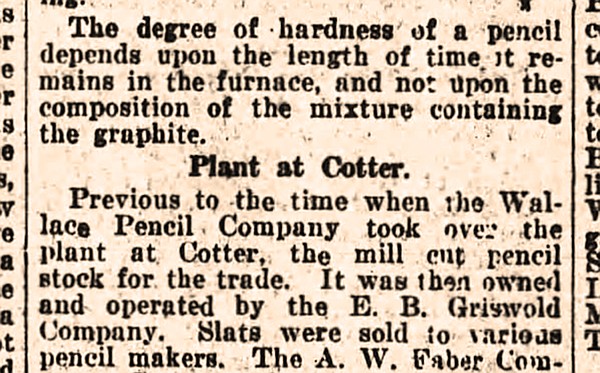 Long ago, Arkansas was a pencil-producing state – not a big manufacturer, but there were pencil mills in their hills. By 1922, however, the industry was at a standstill.
Baxter County publisher Hubert Dee Routzong (1861-1932) wrote about it in a startling article that appeared in the Arkansas Democrat on August 20, 1922.
Routzong wrote, "Where a few years ago there were several cedar mills in the state, there is now only one, the Wallace Mill in Cotter, owned by the Wallace Pencil Company of St. Louis and operated under the management of FC Wiseman."
Did the eloquent Routzong get the story for the Democrat? Or did the Democratic publishers hire him to write it; or did they steal it from his Cotter Record? I don't know, but memo: You shall not steal.
Brief mentions in the Arkansas Gazette and the Baxter Bulletin suggest that Routzong was his own journalist, editor, business manager, composer, and pressman, and unusual in that he did not write stories before compose them. "He pulls the paper out of his head. He has few errors in his evidence," according to the Bulletin.
Moreover, when he wanted to go fishing, he gave the keys to his office and his cash box to a subscriber and left.
Its pencil mill history explains that the Wallace Co. depended on red cedar growing in abundance on every hill in the Ozarks, in every ravine, "in nearly inaccessible gorges and even clinging to the bare face of the towering cliffs of the White River."
On stony outcrops "the sturdy, dwarf, gnarled, twisting red cedar withstands the onslaught of the elements, its roots weaving their way into every crack and crevice, providing a safe nesting place for owls, hawks and a occasional eagle." But in the ravines below where the soil was accumulating, the trees grew straight as an arrow, 75 to 100 feet tall, "tapering from end to end with a healthy heart as red as blood and as fragrant as 'a tuberose…"
Red cedar heartwood has made excellent pencils, cedar chests, keepsakes, and even false minnows used as bait. "It's the only wood that's lightweight, resists moisture, doesn't waterlog, shrink or swell," he wrote.
Routzong noted that Eagle Pencil Co., American Pencil Co., and Standard Pencil Co. all operated mills in Arkansas. After felling the most easily accessible timber on more than 10,000 acres, the American company shifted its operations to the West Coast, where it milled California redwood, fir and incense cedar. With them gone, the Wallace firm had only to compete with factories making cedar posts for railway stations. Unfortunately, red cedar grows slowly and post makers took every tree large enough to be a post – even a cheap 2 inch, mostly sapwood and therefore prone to rotting or warping.
Some of the "men and girls" in the factory made a lot of money, Routzong wrote, because they were skilled in operations requiring precise and delicate measurements, "as a careful examination of your pencil will clearly show." .
The Cotter Mill employed 10 to 25 such hands, but Wallace paid many more people for the trees they cut and hauled downriver to the wagons. A carload of raw timber costs $250 at the sawmill.
From the train, wagons carrying logs suitable for making pencils were carried to Cotter 40 miles or more above the steep hills. A wagon can carry 50 cubic feet or more, earning 35 cents per cubic foot. But 60% to 75% were unusable, being hollow, worm-eaten or gnarled. Typically, the factory would buy six train cars of raw wood to create one car of milled pencil slats.
Factoring in labor and other costs, it took an average of $4,000 to make a carload of pencil slats, or more than $70,500 in purchasing power in today's dollars. (see arkansasonline.com/822cash).
Only the best red cedar could be used, and it was becoming scarce.
"That pencil on your desk that looks like it's made of red cedar might not be red cedar after all," Routzong wrote. Of the substitutes milled in California, frankincense cedar was almost clear white. Although it had a much coarser grain than red cedar, it was light and soft. The makers dyed the incense cedar pencil slats to make them red.
The stained incense cedar looked like real red cedar, but there was one big difference: "Red cedar does not shrink or swell, holds glue, retains a polish, and sharpens easily without waste." Incense cedar didn't do all that.
"If the wood swells or shrinks, the pencil will come off where it is stuck and the lead will come off and fall off, sometimes in small pieces and sometimes the whole lead will come out," he wrote. "That can't happen with red cedar."
MAKE PENCILS
First, the workers squared off the logs and shaved off the sapwood, leaving the sticks bare. The larger the log, the less sapwood needs to be removed. Wormholes, large knots and knurls have been eliminated.
Factory workers used metric dimensions, which Routzong translated into inches: the sticks were sliced ​​1 to 3 inches thick, then cut into blocks about 7 inches long. A different saw then cut the blocks into slats of varying widths, ranging from just over two pencils laid side by side to three, four, five, six or seven pencils wide.
The mill transported its ground slats to Saint-Louis or other places to be finished.
In a finishing plant, each slat passed through a groover – a machine that cut a groove to hold the lead.
CERAMIC!
Pencil lead is not lead. It's mostly graphite. In 1922 it arrived at the finishing plant as a bagged powder. Factory hands mixed it with powdered kaolin and water using an American process – pioneered by writer Henry David Thoreau – to make a paste. An extruder pressing over 20 tons per inch crushed this paste into long strings.
While still damp, the strings were wrapped around a large disc so they wouldn't touch each other and allowed to dry out a bit. While still flexible, they were cut into sections four times longer than a pencil, straightened and stacked on a metal tray. When full, the tray went into a kiln to be heated to a bright red – known to potters as 1292 degrees F or 700 degrees C. The longer the lead baked, the harder it became.
American style pencil lead is ceramic material, y'all.
Before cooling to room temperature, the pellets were dipped in Japanese wax. Then they were slipped into the groove of a pencil slat and covered with glue and another grooved slat. A powerful hydraulic press squeezed these glued slats together until they dried.
Then came a planer that divided each slat into individual pencils, shaping them as it went. And then came the dyeing, varnishing, tip cutting, branding, strapping and packaging for shipment.
BRAKES
Wiseman told Routzong he could see a few more years of cedar from his factory; and he knew fine cedar brakes in the hills of Marion, Searcy, Stone, and Izard counties and in southern Missouri.
"A few years ago there were many extensive red cedar brakes in northern Arkansas, but they contain little valuable timber today," Routzong wrote, adding, "a cedar brake n It's nothing but a thicket of cedar. It often covers a lot of ground and grows so thick that there is no undergrowth, grass or weeds – just cedar. Sometimes , it is so thick that in a heavy snowfall not a flake will reach the ground.While the tops and branches of small trees bend with their snow load, the ground below is bare. "
In 1922, Routzong wrote that woodland creatures knew this about red cedar. I think they still do.
E-mail: