Pioneer Square Mall in Mill Bay 'totally lost' after third fire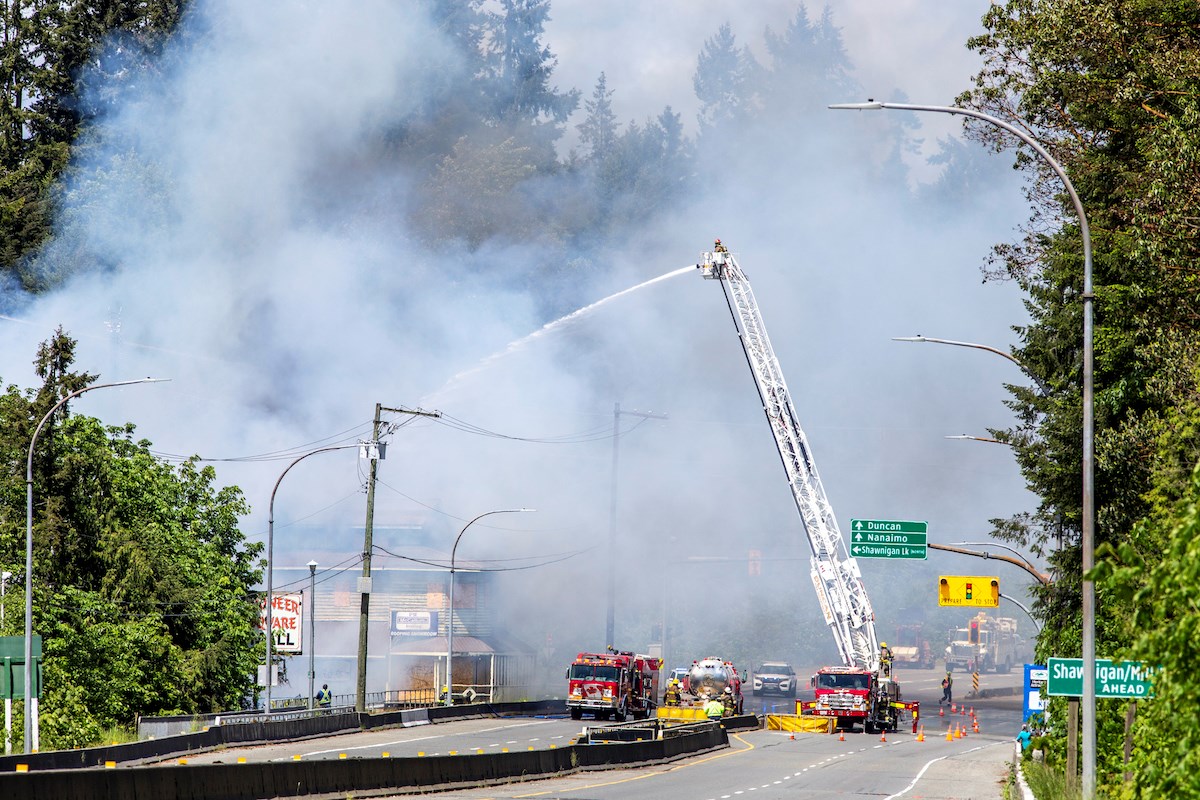 The part of the building closest to the freeway was still standing Friday afternoon, but other parts had collapsed. Passers-by cheered as crews tore down what was left of the building.
Much of the Pioneer Square shopping center in Mill Bay collapsed on Friday in the empty building's third fire in six months.
The part of the building closest to the freeway was still standing Friday afternoon, but other parts had collapsed. Passers-by cheered as crews tore down what was left of the building.
The fire appeared to be largely extinguished by 4 p.m.
Reached by phone from the scene of the blaze earlier Friday afternoon, Mill Bay Fire Chief Ron Beck said the building was "totally lost", adding: "It's collapsing, I have to go".
Thick smoke billowed over the highway, which was closed in both directions at Shawnigan-Mill Bay Road.
Traffic was diverted via Cobble Hill Road and Shawnigan Lake Road, according to Emcon, which maintains the freeways. Oversized vehicles were directed to use West Shawnigan Lake Road.
Firefighters from Malahat Fire Rescue and Cowichan Bay Fire Rescue were also at the scene.
A fire truck could be seen shooting water at the building from above.
The Mill Bay Fire Department responded to similar fires at the 12,000 square foot structure, built in 1972, in February and November.
Mill Bay resident Craig Perdue said Friday's fire marked the fourth time he had seen the building in flames.
Perdue said he and his two sons were on their way to a carnival at George Bonner Elementary School when they saw the fire around 12:30 p.m. "There were 10-foot flames at the top" and about 15 fire engines at the scene, he said.
Bob Parent, a volunteer with the Mill Bay and District Conservation Society, said he was concerned about runoff from the fire polluting Shawnigan Creek.
"This is where the [coho] the smolts are starting to come down…that we put up there," Parent said. "All of this could have been avoided if it had been reversed sooner."
Lora Naherniak, who lives in Shawnigan Lake, agreed, saying the building "should have been torn down years ago."
"I would say it was like tinder, more than tinder."
The fire could have been much worse, she said, if it had happened when the weather was warmer.
Tony Sullivan, who has lived with his son in Mill Bay for a few months since his own house burned down, came out to see what was going on. He called the building a "visual pollution".
"Whoever owns it, they were taking it down. It was an event like this waiting to happen, old tar paper and old wood piled up in one place," he said.
Pioneer Square is part of a parcel of land called the Stonebridge Estate in Mill Bay, built up over three generations by the Garnett family.
The property was acquired by Limona Group of Victoria, a development company.
Limona has plans for a large planned community on part of Stonebridge land and intends to redevelop the 6.25 acres on which Pioneer Square sits.
Mike Baier, director of Limona, said the company had not yet been able to move forward with its plans for the site, although they had been in the works for years.
He said a demolition permit was issued in the spring for the restaurant building south of the site behind Pioneer Square. That restaurant has since been razed and Limona is in the midst of a "nasty" environmental cleanup, he said.
"Now we have something meaner with [Pioneer Square]"Baier said.
Baier said Limona had crews working to deconstruct Pioneer Square, but he had to spend up to six figures securing the site because every time he boarded the property someone s broke in and caused damage or set fire.
He said the company had people on site three to five times a day to try to thwart break-ins.
The 6.25 acre property is valued at $1.436 million by BC Assessment.
— With a dossier by Pedro Arrais