Sappi showcases Saiccor factory after latest R7.7 billion upgrade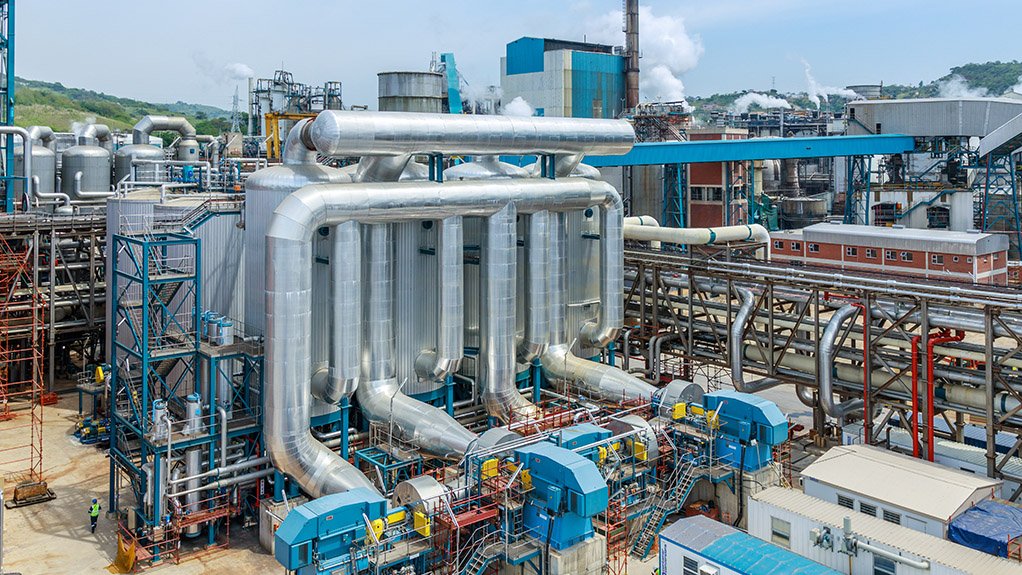 A R7.7 billion environmental upgrade and expansion project at pulp and paper company Sappi's Saiccor mill was officially opened by the President Cyril Ramaphosaon September 13 in Umkomaas, KwaZulu-Natal.
Sappi said the project – which was first announced at the 2018 Presidential Investment Conference – responds to Ramaphosa's call to invest in the South African economy.
The President was joined at the inauguration ceremony by a delegation of representatives, including the Minister of Trade, Industry and Competition Ebrahim PatelPrime Minister of KwaZulu-Natal Nomusa Dube-Ncube and economic development, tourism and environmental affairs MEC Duma Siboniso.
They were joined by Sappi Chairman Sir Nigel RuddCEO of Sappi Steve Binnie and CEO of Sappi Southern Africa Alex Thiel.
The expansion and upgrades included a new evaporator, recovery boiler, screening and washing plant, as well as upgrades to the bleaching plant and pulping machines, improved recovery circuits and additional magnesium digesters.
The new technology employed incorporates improved washing technology to improve water and energy efficiency, better baking technology for better dough quality control, the application of robotics to facilitate the debottlenecking, as well as shop floor digitization for improved commissioning, control and operational efficiency.
Lumber yard upgrades were also made to enable smooth supply chain logistics operations. This included the installation of unloading equipment, side arm cart loaders and new chipper lines.
The expansion also resulted in the installation of the world's largest sulphite recovery boiler, with a processing capacity of up to 1,500 tpd of dry solids.
In addition, 110 km of wiring were installed, as well as 56 km of piping.
More than 2,000 trucks of concrete were used, approximately 30,000 t, as well as half the quantity of steel necessary for the construction of the Eiffel Tower.
Notably, the modularization of the tube deck was a first for Sappi Southern Africa, which the company considered the largest of its kind in South Africa.
"The Board believes that the South African forestry industry is globally competitive and can make other substantial contributions to the South African economy. This investment reflects our confidence in our South African operations," Rudd said.
Binnie noted that the reason for Sappi's investment in dissolving pulp was that global demand continued to grow for renewable textiles derived from sustainable wood fibers.
Fabrics made from cellulose differ from other staple fibers in that they are breathable, absorbent, recyclable and biodegradable. Woodfibre offers a sustainable alternative to other raw materials.
"Sappi supplies more than 50% of global demand for Lyocell, the next-generation textile material made from cellulosic fibers. This expansion project not only responds to customer demand for greater production of dissolving pulp – and in particular Lyocell – but also significantly reduces the plant's environmental footprint and supports Sappi's decarbonization journey, while also generating an additional R1 billion per year for the direct benefit of the KwaZulu-Native economy," he explained.
Binnie praised the cast at Sappi who conceptualized the project and brought it to fruition, despite the harsh conditions and disruptions resulting from Covid-19 restrictions.
"By using renewable and sustainably sourced wood to produce circular and innovative bio-based products, Sappi [is] reduce and replace the need for fossil-based products," he said.
Saiccor's mill was acquired by Sappi in 1989 and expanded its global reach into international dissolving pulp markets. Since then, the plant has undergone three expansion projects to meet global demand.
Under the "Verve" brand, almost all of the dissolving pulp produced at the plant is sold worldwide in the viscose staple fiber markets for use in textiles and garments of various brands.
The project will help Sappi achieve its goal of reducing its greenhouse gas emissions by 18% by 2025.
"The installation of the world's largest sulfite recovery boiler and the conversion of the calcium cooking line to the more sustainable magnesium bisulfite technology reduces the need for coal-based power generation at the plant , leading to a significant reduction in fossil energy requirements. and increasing the plant's use of renewable energy, further realizing significant variable cost savings," Thiel said.