Scaw CEO attributes R2bn investment in steel mill to certainty to scrap created by master plan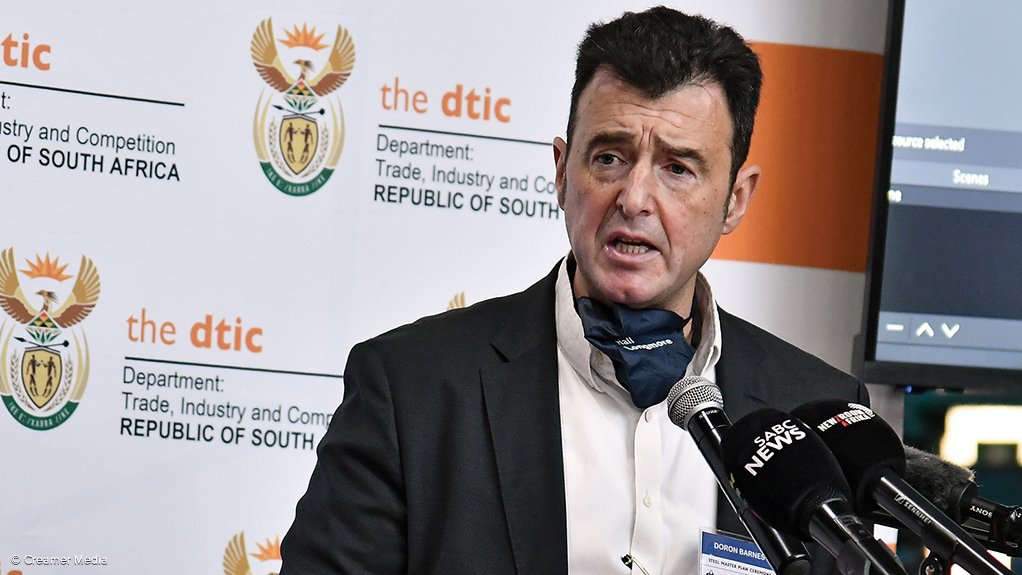 CEO of Scaw Metals Doron Barnes attributed the company's recent decision to invest R2 billion in a new hot strip steel plant in Gauteng directly to the steel master plan, which it says has the potential to revive upstream industries and downstream.
The plant, which will incorporate state-of-the-art technology from Danieli of Italy, will produce 300,000 tpy of thin gauge hot rolled coil and introduce a domestic flat steel alternative to ArcelorMittal South Africa (AMSA).
Barnes reports that the project is fully funded, with Scaw Metals funding 25% of the project from internal cash resources, with the remaining 75% funded using a club loan jointly arranged by Absa and Investec. The two banks, as well as the state-owned Industrial Development Corporation (IDC), will contribute equal shares to the loan.
Civil works on the project have begun at Scaw Metal's Union Junction plant, with commissioning scheduled for December 2023.
In an interview with Engineering News Barnes, who leads the Barnes Group of Companies which acquired some Scaw businesses from IDC in 2018, acknowledges continued criticism and frustration with the blueprint.
However, he thinks most of them are based on a misunderstanding of the role of the plan, which he says cannot guarantee immediate progress, for example to guarantee the continuation of public infrastructure projects – projects considered as essential to stimulate demand for steel products. .
Instead, he sees it as a "platform" through which industry, labor and government can agree joint actions to address long-standing constraints or to pursue specific initiatives designed to benefit to the whole industry.
Barnes acknowledges that every sales rep approaches the platform with a company agenda, but says the workflows have been put in place to support initiatives that have general rather than company-specific benefits and are aligned. on government policy.
Work streams have been put in place to address various sectoral issues, including:
supply-side issues, such as those related to the price and availability of scrap metal;
exports, with particular emphasis on opportunities that may arise for South African steel products as a result of trade liberalization in Africa;
mobilizing resources for trade enforcement and local content designations, as well as obtaining incentives for industrial projects;
transformation and development of human resources; and
demand-side interventions, such as import substitution opportunities and promotion of buy-local campaigns.
Workflow progress has been uneven since the master plan was signed in 2021 at the Hall Longmore plant in Wadeville, which is another Barnes Group company. Nonetheless, Barnes says Scaw's investment was made possible in part by progress made under the master plan to limit scrap metal exports and implement a 20% export duty on the scrap.
"This has allowed the project's backers to ensure that sufficient quantities and the correct grades of scrap metal will be available for the plant to produce efficiently," he said. Engineering News.
While the preferential pricing system and the scrap export tax remain controversial in some parts of the industry, Barnes argues that it has helped ensure that certain long steel products, such as wire rod and rebar, are priced as competitively in South Africa today as they are in China.
This competitive position was strengthened, he acknowledges, by China's decision to remove its 13% export rebate.
The investment decision was also underpinned by changes in the global steel industry which underscored the value of domestic production. These include supply and price disruptions associated with both Covid and, more recently, Russia's invasion of Ukraine, and increased freight logistics costs.
Barnes is optimistic that Scaw's entry into the primary flat steel market in the next few years could help ensure a similar competitive outcome as is the case for long products in a subsector currently. monopolized by AMSA.
However, improving the outlook for beleaguered downstream manufacturers remains difficult.
The master plan proposes the creation of a Steel Industry Development Fund, financed by a levy on each ton of steel sold in the domestic market, to support the creation of new market opportunities and trade compliance.
Barnes believes the fund can be used to investigate unfair practices in the trade of certain manufactured goods, to advocate for tariff protection.
"Taking full advantage of the platform created by the blueprint requires active participation," Barnes points out.
"This is a wonderful initiative for which the Minister of Commerce, Industry and Competition Ebrahim Patel is to be commended as it shows that the government puts the steel industry first and takes it seriously.
"It is now up to the industry to take the lead in devoting the time, energy and resources to make it work, rather than sitting back and complaining about all the issues."